National Dark Sky Week in USA
National Dark Sky Week in USA is held on April 8. The darkest holiday of them all was founded in 2003, and every April the week of the new moon marks a time to shed some light on our big expanse of sky. This event in the first decade of the month April is annual.
Help us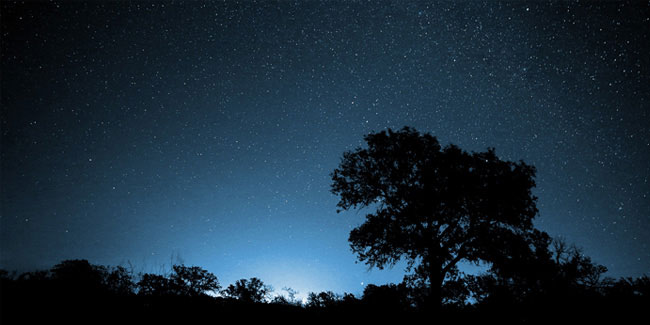 We are creatures of light, but in recent centuries our technology has enabled us to push back the frontier of darkness, extending our work and leisure time well into the hours of twilight and darkness. We tend to forget, however, that ecosystems and wild species operate 24 hours each day, seven days each week. They have evolved to cope with, depend on and take advantage of natural darkness. A night sky without artificial light is therefore vital to the proper functioning of natural ecosystems. Artificial lighting affects species migration patterns, predator-prey relationships, and the circadian rhythms of many organisms, to name just a few of the consequences of light pollution.
The National Dark Sky Week is celebrated in the United States every week of the new moon in April. International Dark Sky Week's origins go back to 2002, when Jennifer Barlow, a high schooler from Midlothian, Virginia, saw someone on the Internet propose that an annual night of dimmed outdoor lights could help people enjoy the night sky. Acting on the idea, Ms. Barlow's efforts led to National Dark Sky Week, first observed in the United States in April 2003.
Similar holidays and events, festivals and interesting facts

Tangible Karma Day on April 6
(is a company founded by Amber Nicole Dilger in 2005 and her idea was to recycle and reuse);

Researcher's Day or Science and Technology Day in Argentina on April 10
;

Myanmar Water Festival on April 14
;

Ecological Knowledge Day on April 15
(has been celebrated in Ukraine since 1996 at the initiative of environment NGOs);

International Biomedical Laboratory Science Day on April 15
(is celebrated annually on 15 April to promote and acknowledge the role of biomedical laboratory professionals in diagnostic and preventative healthcare organisations);

Youm El Ilm or Science Day in Algeria on April 16
;

Bat Appreciation Day on April 17
;

Food and Agriculture Organization Day or FAO Day in Iraq on April 17