Pharmacy Technician Day
Pharmacy Technician Day is held on October 17. PTDay was first endorsed by Pharmacy Technician Educators Association, American Association of Pharmacy Technicians, Inc. – AAPT and Pharmacy Technician Certification Board in 2015. It has been observed the third Tuesday in October since 1991. This event in the second decade of the month October is annual.
Help us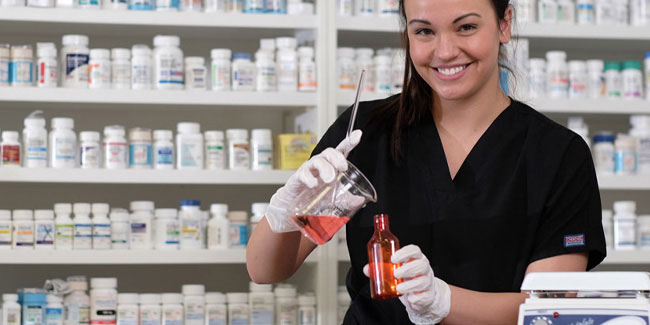 The global pharmaceuticals market is worth $300 billion. According to the Bureau of Labor Statistics, in 2017, there were 417,720 Pharmacy Technicians and their mean annual salary was about $33,060. Retail Pharmacies hire the maximum number of pharmacy technicians and pay a salary of approximately $30,950 annually.
The average age of an employed pharmacist technician is 37 years old. The most common ethnicity of pharmacist technicians is White (56.7%), followed by Hispanic or Latino (18.1%) and African American (11.6%).
Similar holidays and events, festivals and interesting facts

Teachers' Day in Chile on October 16
(Día del Docente or Día del Profesor);

Brazilian Food Engineer Day on October 16
;

Paraguayan Librarian's Day on October 16
;

World Spine Day on October 16
;

Architect Day in El Salvador on October 17
(Día del arquitecto);

World Trauma Day on October 17
;

World Day for Organ Donation and Transplantation on October 17
;

Polish Post Day or Postman's Day on October 18
;

National Medical Assistants Day or US Medical Assistants Recognition Day on October 18
;

Sociologist's Day in Dominican Republic on October 18
;

World Menopause Day on October 18
(doctors call for women to take action at menopause, to prevent health problems in later life)