Otago Anniversary Day in New Zealand
Otago Anniversary Day in New Zealand is held on March 25. Holiday is actually the 23rd of March but it is observed on the Monday closest to that date. This event in the third decade of the month March is annual.
Help us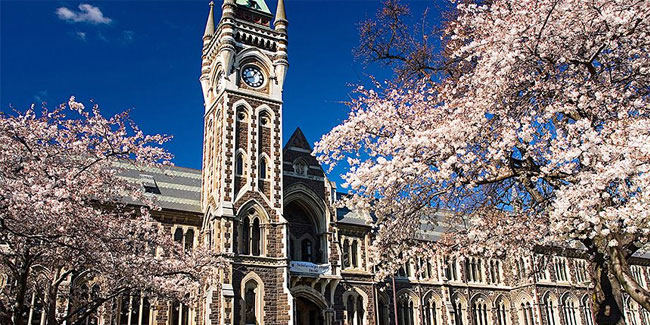 Once the scene of a mighty gold rush, the dramatic Otago region is now appreciated for its powerful, moody landscape. A popular holiday destination, there are lots of options for accommodation in Central Otago. The towns of Alexandra, Clyde, Cromwell, Roxburgh and Ranfurly are ideal bases for explorations of the surrounding historical countryside. The only mainland breeding colony of the Northern Royal Albatross, large majestic seabirds with a wingspan of three metres, is at the Otago Peninsula.
Similar holidays and events, festivals and interesting facts

Taranaki Anniversary Day in New Zealand on March 11
(Date for 2023. Holiday is actually the 31st of March but it is observed on the second Monday of March. Taranaki Anniversary applies to the Taranaki Region which includes Inglewood, Waitara, Hawera, Stratford, and Eltham);

NZ Army Day on March 25
;

Southland Anniversary Day in New Zealand on April 2
(Date for 2024. Holiday is actually the 17th of January but it is observed on Easter Tuesday. This was decided in December 2011 by the mayors of Invercargill, Southland, and Gore districts);

Kapyong Day on April 24
(Australia, Canada, New Zealand);

Anzac Day on April 25
(Australia, New Zealand, Nauru, Solomon Islands, Tonga and Western Samoa. It commemorates the landing of the Australian and New Zealand Army Corps - ANZAC - on the Gallipoli peninsula in 1915);

National Chocolate Fish Day in New Zealand on May 11
;

Motherís Day on May 12
(Anguilla, Antigua and Barbuda, Aruba, Australia, Austria, Bahamas, Bangladesh, Barbados, Belgium, Belize, Bermuda, Bhutan, Bonaire, Botswana, Brazil, Brunei, Canada, Cambodia, Cayman Islands, Central African Republic, Chad, Chile, China, Colombia, Congo, Dem. Rep., Congo, Rep., Cote d'Ivoire, Croatia, Cuba, Curaçao, Cyprus, Czech Republic, Denmark, Dominica, Ecuador, Equatorial Guinea, Estonia, Ethiopia, Faroe Islands, Fiji, Finland, Germany, Gabon, Gambia, Greenland, Ghana, Greece, Grenada, Guyana, Honduras, Hong Kong, Iceland, India, Italy, Jamaica, Japan, Kenya, Latvia, Liberia, Liechtenstein, Macau, Malaysia, Malta, Myanmar, Namibia, Netherlands, New Zealand, Pakistan, Papua New Guinea, Peru, Philippines, Puerto Rico, Saint Kitts and Nevis, Saint Lucia, Saint Vincent and the Grenadines, Samoa, Singapore, Sint Maarten, Slovakia, South Africa, Sri Lanka, Suriname, Switzerland, Taiwan, Tanzania, Tonga, Trinidad and Tobago, Turkey, Uganda, Ukraine, United States, Uruguay, Vietnam, Venezuela, Zambia, Zimbabwe)