Father's Day in some Islamic countries
Father's Day in some Islamic countries is held on January 25. Iran, Kuwait, Bahrain, Iraq, Oman, Qatar, Egypt, Yemen, Syria, Lebanon, Somalia, Sudan, Mauritania is celebrated on the 13th day of the month of Rajab. This event in the third decade of the month January is annual.
Help us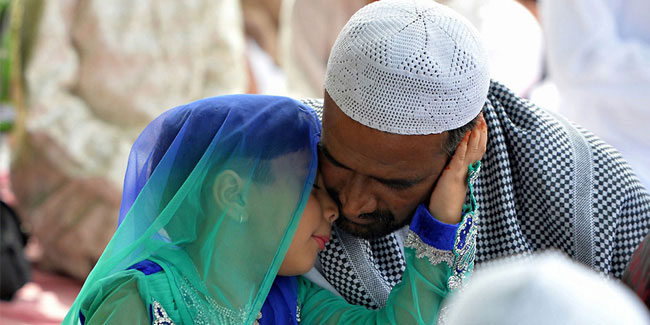 Fatherís Day is a social and family event that aims at celebrating fatherhood and honoring fathers. There is nothing wrong with such social and cultural events in Islam as long as they donít promote un-Islamic values. A Muslim should show kindness, love, and dutifulness to his parents.
Fatherís Day was originally a Western celebration more so than Middle Eastern. Al-Jazeera, in looking into the Arab celebration of Fathers, found that its Western origin dates to at least 1508, where its first mention was in a southern European tradition. In the U.S., mainly Catholics originally celebrated Fatherís Day, but that changed in the 20th century when the nation adopted the celebration.
Arab countries celebrate Fatherís Day in different ways. According to Anyday Guide, countries such as Lebanon, Egypt, Jordan, Palestine, Syria, United Arab Emirates, annually celebrate Fatherís Day on June 21, which is the day on which summer solstice occurs. In these countries, it is not a big celebration, in contrast to Motherís Day.
Iranian Muslims celebrate National Fathers' Day on 13 Rajab (7th month of Hegira calendar) on the birth anniversary of Imam Ali (AS) the first Imam of Twelver Shiites. The day was designated by the government and entered the calendar as the National Fathers' Day out of respect for the Twelver Shiites' first Imam.
Similar holidays and events, festivals and interesting facts

Arbor Day in Egypt on January 15
;

National Sports Day in Qatar on February 13
(the second Tuesday of each February);

Engineer's Day in Iran on February 23
(This day is celebrated to respect Nasir al-Din al-Tusi, Iranian scientist);

Iran Engineer's Day on February 24
;

National Day in Kuwait on February 25
;

Kuwait Liberation Day on February 26
(commemorates the country's liberation in 1991, after the Gulf War);

Baloch Culture Day on March 2
(Balochistan)