Andean New Year in Bolivia
Andean New Year in Bolivia is held on June 21. On the 21st of June, Bolivia observes a national holiday in recognition of the Aymara who inhabit the West of Bolivia and Southern Peru. This event in the third decade of the month June is annual.
Help us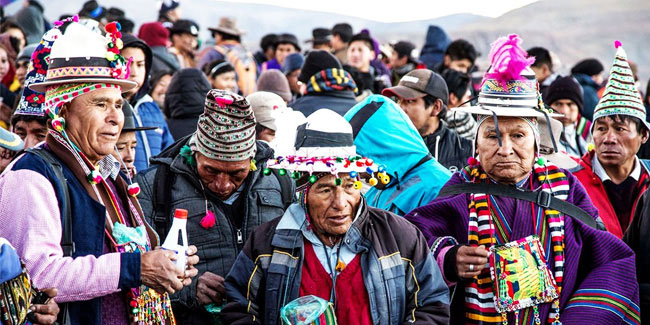 The celebration of the Andean New Year in Bolivia will gather thousands of people in the ruins of ancient Tiwanaku, although many may not know that the festival was created a few decades ago, nor are they aware of the controversy over its antiquity.
The festivity, called "Willka Kuti" (return of the Sun) or Machaq Mara (New Year), was born in the 1980s when young people from an Aymara Indian movement wanted to restore in the memory of their people supposedly ancient rituals dedicated every June 21 to the winter solstice in the southern hemisphere, in correspondence with a new agricultural cycle.
The birth of the festival has been recounted several times by one of its protagonists, the scholar, university professor and promoter of the culture of the Aymara world, former deputy Germán Choquehuanca, whom his followers call "el Inka".
The commemoration became popular and in 2005, the then president Carlos Mesa promulgated a law to declare the Aymara New Year as Intangible, Historical and Cultural Heritage of Bolivia, and in 2009 the Government of Evo Morales decreed that every June 21 be a national holiday. and later it changed the name to Andean, Amazonian and Chaco New Year because the celebration reached more than 230 places in the country considered sacred.
Due to its symbolism, the festival is now replicated in some regions of Chile, Argentina and Peru and Bolivians reproduce it even in Europe, although the archaeological center of Tiwanaku, 71 kilometers from La Paz, concentrates the main ceremonies due to their importance for the Andean indigenous world.
Similar holidays and events, festivals and interesting facts

Bengali New Year on April 15
(or Poila Boishakh. Sri Lankans begin celebrating their National New Year);

Yhyàkh in Yakutia on June 21
(traditional summer meeting, Yakut New Year);

Inti Raymi and Indian Day on June 21
(Peru, Bolivia, Ecuador);

We Tripantu, the Mapuche New Year in Chile on June 24
(celebration of the return of the sun);

Muslim New Year on July 6
(The Islamic New Year, also known as Arabic New Year, Muharram or Hijri New Year is the day that marks the beginning of a new Hijri year);

New Year in Mayan Calendar on July 26
;

Enkutatash in Ethiopia, Eritrea, Rastafari on September 12
(Celebrated on the first day of Mäskäräm);

Nayrouz on September 12
(Coptic Orthodox Church)