Ghana Revolution Day
Ghana Revolution Day is held on December 31. This event in the third decade of the month December is annual.
Help us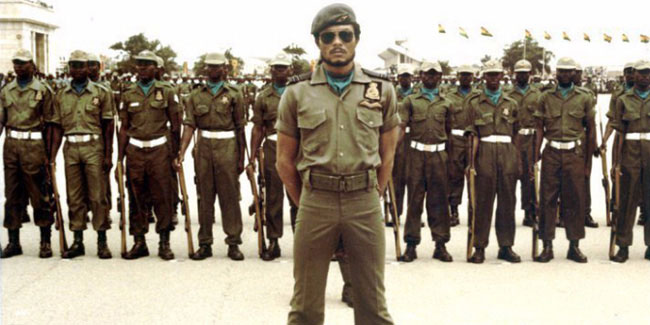 Known for its deep history, sandy beaches and lush forests, Ghana is one of the 54 countries that make up the African continent. Ghana Is One Of Africa's Most Peaceful Nations.
Based on the past futures framework analysis of the December 31st peopleís revolution in Ghana, the period spanning 1982 to April 1983 is designated as the first past-future of the revolution. This past-future is rhetorically and ideologically characteristic of an anti-imperialist, anti-neocolonialist populism. However, the period spanning April 1983 to 1992 is designated as the second past-future of the revolution. This phase of the revolution is heavily characteristic of a neoliberal populist rhetoric driven by a fiscal ideology. The fiscal ideology in question was undergirded by the infusion of the IMF and World Bank SAP (Structural Adjustment Programme) aid into the economic recovery plans for Ghana in the 1980s and 1990s.
Similar holidays and events, festivals and interesting facts

Boxing day in Australia on December 26
(also Anguilla, Antigua and Barbuda, Great Britain, New Zealand, Canada, Kiribati, Nauru, Botswana, Ghana, Jamaica);

Chocolate Day in Ghana on February 14
;

Independence Day in Ghana on March 6
(It celebrates the declaration of independence of Ghana from the UK in 1957);

Engineer's Day in Ghana on March 25
(Every last full week of March);

Motherís Day on May 12
(Anguilla, Antigua and Barbuda, Aruba, Australia, Austria, Bahamas, Bangladesh, Barbados, Belgium, Belize, Bermuda, Bhutan, Bonaire, Botswana, Brazil, Brunei, Canada, Cambodia, Cayman Islands, Central African Republic, Chad, Chile, China, Colombia, Congo, Dem. Rep., Congo, Rep., Cote d'Ivoire, Croatia, Cuba, Curaçao, Cyprus, Czech Republic, Denmark, Dominica, Ecuador, Equatorial Guinea, Estonia, Ethiopia, Faroe Islands, Fiji, Finland, Germany, Gabon, Gambia, Greenland, Ghana, Greece, Grenada, Guyana, Honduras, Hong Kong, Iceland, India, Italy, Jamaica, Japan, Kenya, Latvia, Liberia, Liechtenstein, Macau, Malaysia, Malta, Myanmar, Namibia, Netherlands, New Zealand, Pakistan, Papua New Guinea, Peru, Philippines, Puerto Rico, Saint Kitts and Nevis, Saint Lucia, Saint Vincent and the Grenadines, Samoa, Singapore, Sint Maarten, Slovakia, South Africa, Sri Lanka, Suriname, Switzerland, Taiwan, Tanzania, Tonga, Trinidad and Tobago, Turkey, Uganda, Ukraine, United States, Uruguay, Vietnam, Venezuela, Zambia, Zimbabwe);

Africa Day on May 25
(African Union);

June 4th revolution in Ghana on June 4
(1979)