Lady of Camarin Day in Guam
Lady of Camarin Day in Guam is held on December 8. Feast of the patron saint of the island. This event in the first decade of the month December is annual.
Help us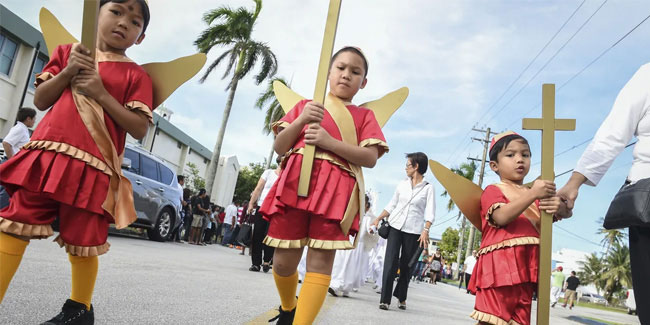 Santa Marian Kamalen Day, a religious holiday in Guam, happens on December 8 every year and coincides with the Feast of the Immaculate Conception. It celebrates the Virgin Mary and her carved 350-year-old molave wood and ivory image, Our Lady of Camarin. This is the largest and most popular religious holiday in Guam.
The statue of Santa Marian Kamalen is made of ivory and molave, a wood from the Philippines. As local legend recounts, it was found by a fisherman, floating in the water between Guam and Cocos Island, a tiny island a few hundred meters off the southern shore. Her story of miraculous discovery in the sea parallels a whole range of Spanish Marian devotions from the era, but even devout locals also suggested a more prosaic story, that she came from the shipwreck of the Señora del Pilar, which sunk off the coast of Cocos and had an image of the Immaculate Conception onboard. She was brought to the military barracks (camarin in Spanish), and became known as Our Lady of Camarin, or Kamalen in Chamorro.
Similar holidays and events, festivals and interesting facts

Delaware Statehood Day on December 7
(1787);

National Cotton Candy Day in USA on December 7
;

National Brownie Day in USA on December 8
;

National Salesperson Day on December 8
(US);

National Concha Day in USA on December 8
;

Take it in the Ear Day on December 8
;

National Pastry Day in USA on December 9