Wappu Spring Festival in Finland
Wappu Spring Festival in Finland is held on May 1. Vappu or Vapunaatto - Spring Sowing Festival. This event in the first decade of the month May is annual.
Help us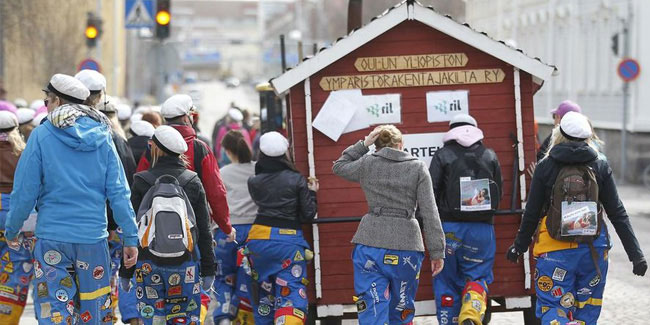 Even though Vappu was officially recognized as a public holiday only in 1979, it has a longer history in Finland. Vappu was originally a celebration of spring in Finland, celebrating the Saint Walpurga. Vappu progressively became a student celebration, a tradition apparently coming from Sweden.
Vappu is celebrated annually on May 1st and marks the end of winter. It is also celebrated as International Labour Day and is one of the biggest festivals of the year in Finland alongside Midsummer's Day and Christmas.
Similar holidays and events, festivals and interesting facts

National Veterans' Day in Finland on April 27
;

No Pants Day on May 3
(It is held on the first Friday in May);

Day of the Finnish Identity on May 12
(Finland);

Motherís Day on May 12
(Anguilla, Antigua and Barbuda, Aruba, Australia, Austria, Bahamas, Bangladesh, Barbados, Belgium, Belize, Bermuda, Bhutan, Bonaire, Botswana, Brazil, Brunei, Canada, Cambodia, Cayman Islands, Central African Republic, Chad, Chile, China, Colombia, Congo, Dem. Rep., Congo, Rep., Cote d'Ivoire, Croatia, Cuba, Curaçao, Cyprus, Czech Republic, Denmark, Dominica, Ecuador, Equatorial Guinea, Estonia, Ethiopia, Faroe Islands, Fiji, Finland, Germany, Gabon, Gambia, Greenland, Ghana, Greece, Grenada, Guyana, Honduras, Hong Kong, Iceland, India, Italy, Jamaica, Japan, Kenya, Latvia, Liberia, Liechtenstein, Macau, Malaysia, Malta, Myanmar, Namibia, Netherlands, New Zealand, Pakistan, Papua New Guinea, Peru, Philippines, Puerto Rico, Saint Kitts and Nevis, Saint Lucia, Saint Vincent and the Grenadines, Samoa, Singapore, Sint Maarten, Slovakia, South Africa, Sri Lanka, Suriname, Switzerland, Taiwan, Tanzania, Tonga, Trinidad and Tobago, Turkey, Uganda, Ukraine, United States, Uruguay, Vietnam, Venezuela, Zambia, Zimbabwe);

Finland Military Flag Day on May 19
;

Common Malsharing Day in Finland on May 23
(Måltidens gemenskapsdag);

Birthday of Carl Gustaf Emil Mannerheim & Flag Day celebration of the Finnish Defence Forces on June 4
(Finland)