St. John the Theologian Day also Editor's Day
St. John the Theologian Day also Editor's Day is held on May 21. This event in the third decade of the month May is annual.
Help us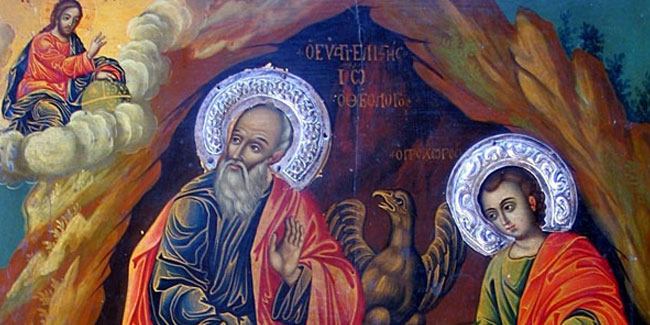 On May 21, the Eastern Orthodox Church celebrates the feast day dedicated to John the Theologian. St. John was the son of Salome the myrrh-bearer and Zebedee, a fisherman. His brother was St. James, another apostle.
The holy, glorious and all-laudable Apostle and Evangelist John (also John the Theologian or John the Divine) was one of the original twelve Apostles, and wrote the Gospel bearing his name; three canonical letters: I John, II John, and III John; and the Book of Revelation. His primary feast day is celebrated on May 8, that of the twelve apostles on June 30, and his repose the Eastern Orthodox Church and those Eastern Catholic Churches which follow the Byzantine Rite commemorate the "Repose of the Holy Apostle and Evangelist John the Theologian" on 26 September. His symbol is the eagle.
Saint John the Apostle, patron saint archive. Patronage: Love, loyalty, friendships, authors, booksellers, burn-victims, poison-victims, art-dealers, editors, publishers, scribes, examinations, scholars, theologians.
Similar holidays and events, festivals and interesting facts

National Educational Bosses Week in USA on May 20
(Starts on Monday of the third full week of May. Administrative Staff);

National Psychologist's Day in Mexico on May 20
;

National Waitress Day in USA on May 21
;

Optometrist Day in Venezuela on May 21
;

Chile Lawyer's Day on May 21
;

National Day of Private Security in Spain on May 21
;

Aviation Maintenance Technician Day in United States on May 24
;

Civil Engineer's Day in Ecuador on May 24