The ENIAC Day
The ENIAC Day is held on February 15. Philadelphia. This event in the second decade of the month February is annual.
Help us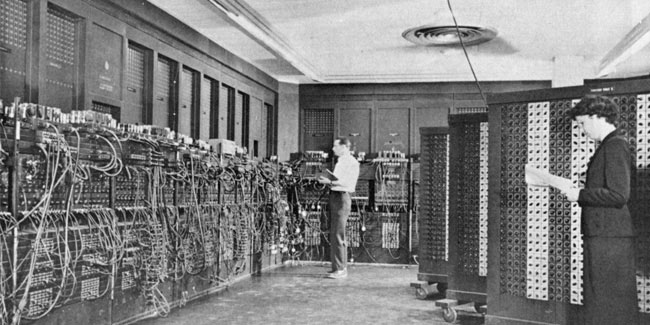 In 1942, physicist John Mauchly proposed an all-electronic calculating machine. The U.S. Army, meanwhile, needed to calculate complex wartime ballistics tables. The result was ENIAC (Electronic Numerical Integrator And Computer), built between 1943 and 1945—the first large-scale computer to run at electronic speed without being slowed by any mechanical parts. For a decade, until a 1955 lightning strike, ENIAC may have run more calculations than all mankind had done up to that point.
The day is held on the 15th of February each year, in recognition of the anniversary of the first launch announcement of ENIAC in 1946. Parts of ENIAC are on public display at the Moore School, which you should visit if you're in town for PennApps. ENIAC's legacy lives on the Philadelphia area.
Similar holidays and events, festivals and interesting facts

Statehood Day in Arizona and Oregon on February 14
(Arizona - 1912, Oregon -1859, United States);

National Cream-Filled Chocolates Day in USA on February 14
;

National Pet Theft Awareness Day in US on February 14
;

Singles Awareness Day on February 15
(also Singles Appreciation Day. It is an unofficial holiday celebrated by single people);

National Gumdrop Day in USA on February 15
;

National Almond Day in USA on February 16
;

Innovation Day on February 16
;

Elizabeth Peratrovich Day in Alaska on February 16
;

Friday Fish Fry Day in Wisconsin, USA on February 16
(Celebrated on the first Friday of Lent)