John Frum Day in Vanuatu
John Frum Day in Vanuatu is held on February 15. This event in the second decade of the month February is annual.
Help us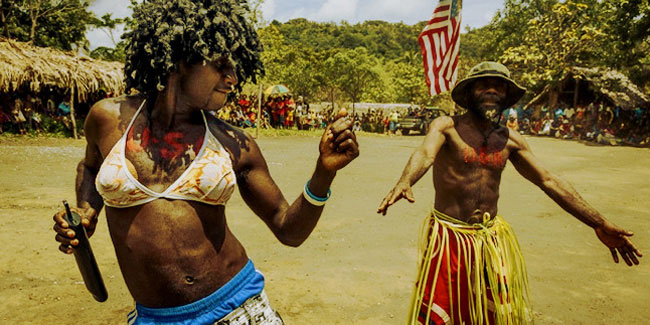 John Frum (also called Jon Frum, John Brum, and John Prum) is a mythic figure associated with cargo cults on the island of Tanna in Vanuatu. He is often depicted as an American World War II serviceman who will bring wealth and prosperity to the people if they follow him.
A cargo cult is an indigenist millenarian belief system in which adherents perform rituals which they believe will cause a more technologically advanced society to deliver goods. These cults were first described in Melanesia in the wake of contact with allied military forces during the Second World War.
Similar holidays and events, festivals and interesting facts

Family Day in Vanuatu on December 26
;

Father Lini Day in Vanuatu on February 21
;

Custom Chief's Day in Vanuatu on March 5
;

Children's Day in Vanuatu on July 24
;

Vanuatu Independence Day on July 30
(celebrates the independence of Vanuatu from the United Kingdom and France in 1980);

Feast day of the Assumption of Mary on August 15
(Christian feast day, one of the Catholic holy days of obligation a public holiday in Austria, Belgium, Benin, Bosnia, Burundi, Cameroon, Chile, Colombia, Croatia, Cyprus, France, Germany, Greece, Guatemala, Hungary, Italy, Ivory Coast, Lebanon, Liechtenstein, Lithuania, Luxembourg, Macedonia, Madagascar, Malta, Mauritius, Monaco, Paraguay, Poland, Portugal, Romania, Senegal, Seychelles, Slovenia, Spain, Switzerland, Togo, and Vanuatu);

Constitution Day in Vanuatu on October 5