Hot Dog Day
Hot Dog Day is held on July 18. United States, Canada, Great Britain and Australia. It has been celebrated since 1971, when students first proposed it. Hot Dog Day itself is usually the third Saturday in April, although many students celebrate the entire "hot dog week", running from that Wednesday to that Sunday. July 18 – based on when the North American Meat Institute hosts its annual Hot Dog Lunch on Capitol Hill. This event in the second decade of the month July is annual.
Help us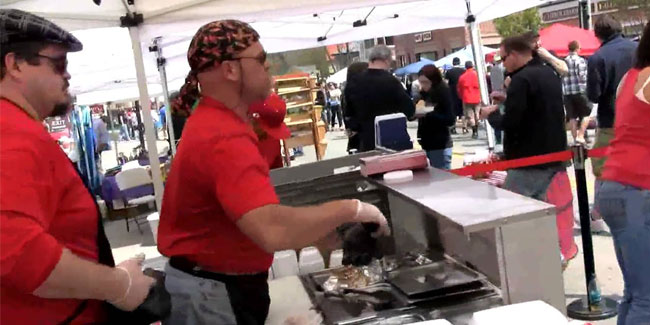 On July 18, 1957, the US Chamber of Commerce established a national holiday - Hot Dog Day.
Mystery of the origin of the Hot Dog:
1. Basically, a hot dog is a sausage in a bun and seasonings, but it has some serious ancient roots. For example, sausages were mentioned in Homer's Odyssey. Emperor Nero's chef, Gaius, prepared them for his ruler.
2. According to the Austrian city of Vienna, two Austro-Hungarian immigrants, Emil Reichel and Sam Ladani, invented the hot dog in their beautiful city. When the two men left Europe for Chicago, they simply took the recipe with them and sold hot dogs at the 1893 World's Fair.
3. Meanwhile, officials in Frankfurt, Germany, say hot dogs were invented in their city in 1487.
It is known that mustard is the most popular hot dog seasoning (ketchup recedes closer to second place).
Did you know hot dogs were sent into space?
The story goes: the astronauts of the Apollo 7 mission in 1968 didn't really like the freeze-dried ice cream they took into space. This food was removed from the space program. So the hot dog appeared in the diet of astronauts.
Naked facts:
In 2014, the most expensive hot dog in the world was sold in Seattle, Washington for $169.
In 2015, one eater broke the hot dog eating record when he ate 62 hot dogs in 10 minutes.
Similar holidays and events, festivals and interesting facts

National Peach Ice Cream Day in USA on July 17
;

Get Out of the Doghouse Day on July 17
(The original idea came from the symbolism in the 1911 Peter Pan novel written by J. M. Barrie in chapter16 when Mr. Darling goes out and sleeps in the dog kennel, remorseful of not paying enough attention to his family and allowing his children to be kidnapped);

National Caviar Day in USA on July 18
;

National Daiquiri Day in USA on July 19
;

National Hot Dog Day in USA on July 19
(While it's unclear exactly when the hot dog was invented, many people attribute it to sausages developed during the 13th century in Germany);

Exposicion Rural Argentina or La Exposicion Rural on July 19
;

International Cake Day on July 20
;

National Lollipop Day and Fortune Cookie Day in USA on July 20