Bon Festival in Japan
Bon Festival in Japan is held on July 13. Celebrated until July 16 in western Japan. This event in the second decade of the month July is annual.
Help us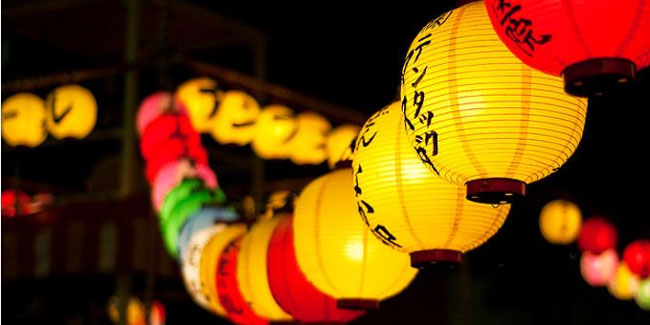 Obon, also known as Bon, is one of the most important customs in Japan that was introduced by the Buddhists to the Japanese. Obon is a holiday in mid-July or August and usually lasts a week. It brings families together and reunites them with the dead. It is loosely interpreted as "Festival of the Dead".
It is believed that their spirits return at this time to visit their relatives. Chochin (paper) lanterns are hung to guide the spirits and Obon dances (bon odori) are performed.
Similar holidays and events, festivals and interesting facts

Natto Day in Japan on July 10
(Natto - Japanese food made from fermented soybeans);

Nachi Fire Festival in Japan on July 14
(Nachi-no-Ogi Matsuri);

Bon Festival on July 15
(Kantō region, Japan);

Marine Day or Ocean Day or Sea Day in Japan on July 15
(is a Japanese national holiday celebrated on the third Monday in July);

Gion Matsuri in Kyoto, Japan on July 17
(祇園祭 is one of the most famous festivals. It lasts all of July and ends with the Yamaboko Junkō parade on July 17 and 24. Initially, it was dedicated to fighting the plague in 869);

One Piece Day on July 22
;

Letter Writing Day in Japan on July 23
(The Letter Writing Day can be a bit confusing... as we found on numerous sites that this 'holiday' falls on 7th of December, then again on the official World Letter Writing Day page the date is 1st of September, and Japan issues LWD stamps each year, for over two decades now, on 23rd of July. In any case, its a nice way of reminding people of the existence of letters)