Yhyàkh in Yakutia
Yhyàkh in Yakutia is held on June 21. Traditional summer meeting, Yakut New Year. This event in the third decade of the month June is annual.
Help us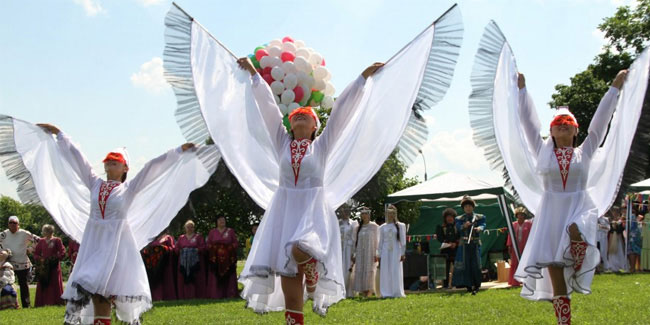 Ysyakh is the Yakut holiday of summer. The Yakut ysyakh is the most important holiday in Yakutia. It is a spring and summer festival in honor of the gods Ayyy and the rebirth of nature, accompanied by a ritual of prayers, abundant refreshments and koumiss drink, dances, folk games, horse races, competitions for strong and skillful guys.
Also, recently ysyakh has been held between June 10 and June 25, depending on the ulus, weekend schedule, local preferences, etc.
Elements of the Yakut holiday have similarities with the summer holidays of Turkic peoples: Tuvinians, Altaians, Tatars, Bashkirs, etc. The Yakuts have preserved the ancient tradition, characteristic for cattle breeding peoples, of dividing the year into two halves, and the ysyakh itself was a kind of boundary between the old and the new, the past and the future.
Similar holidays and events, festivals and interesting facts

Bengali New Year on April 15
(or Poila Boishakh. Sri Lankans begin celebrating their National New Year);

Inti Raymi and Indian Day on June 21
(Peru, Bolivia, Ecuador);

Andean New Year in Bolivia on June 21
(On the 21st of June, Bolivia observes a national holiday in recognition of the Aymara who inhabit the West of Bolivia and Southern Peru);

We Tripantu, the Mapuche New Year in Chile on June 24
(celebration of the return of the sun);

Muslim New Year on July 6
(The Islamic New Year, also known as Arabic New Year, Muharram or Hijri New Year is the day that marks the beginning of a new Hijri year);

New Year in Mayan Calendar on July 26
;

Enkutatash in Ethiopia, Eritrea, Rastafari on September 11
(Celebrated on the first day of Mäskäräm)