Independence Declaration Day in Venezuela
Independence Declaration Day in Venezuela is held on April 19. This event in the second decade of the month April is annual.
Help us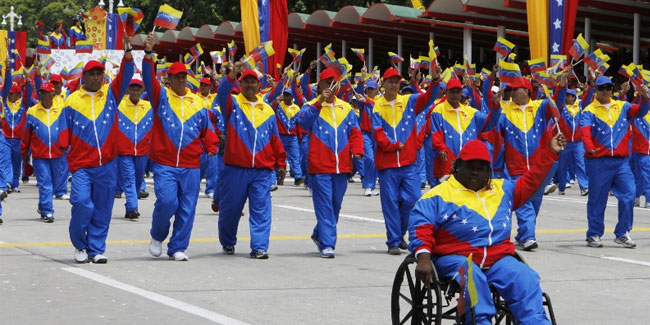 Independence Declaration Day or 'Declaración de la independencia', also known as the 'Signing of the Act of Independence' or 'April 19th Day' is a public holiday in Venezuela. This holiday commemorates the declaration of a local junta in Caracas in 1810.
A group of Venezuelan Creoles boldly proclaimed their country an independent republic in 1797. Although their effort failed, it forewarned of the revolutionary movements that were soon to inflame Latin America.
The Venezuelan Declaration of Independence (Spanish: Acta de la Declaración de Independencia de Venezuela) is a statement adopted by a congress of Venezuelan provinces on July 5, 1811, through which Venezuelans made the decision to separate from the Spanish Crown in order to establish a new nation based on the premises of equality of individuals, abolition of censorship and dedication to freedom of expression. These principles were enshrined as a constitutional principle for the new nation and were radically opposed to the political, cultural, and social practices that had existed during three hundred years of colonization.
Similar holidays and events, festivals and interesting facts

Pan American Day on April 14
(El Salvador, Haiti, Honduras and Venezuela, USA);

Beginning of the Independence Movement in Venezuela on April 19
;

Feast of the Virgin of Montserrat on April 27
(Spain [Catalonia], Argentina, Guatemala, Mexico, El Salvador, Venezuela);

Motherís Day on May 12
(Anguilla, Antigua and Barbuda, Aruba, Australia, Austria, Bahamas, Bangladesh, Barbados, Belgium, Belize, Bermuda, Bhutan, Bonaire, Botswana, Brazil, Brunei, Canada, Cambodia, Cayman Islands, Central African Republic, Chad, Chile, China, Colombia, Congo, Dem. Rep., Congo, Rep., Cote d'Ivoire, Croatia, Cuba, Curaçao, Cyprus, Czech Republic, Denmark, Dominica, Ecuador, Equatorial Guinea, Estonia, Ethiopia, Faroe Islands, Fiji, Finland, Germany, Gabon, Gambia, Greenland, Ghana, Greece, Grenada, Guyana, Honduras, Hong Kong, Iceland, India, Italy, Jamaica, Japan, Kenya, Latvia, Liberia, Liechtenstein, Macau, Malaysia, Malta, Myanmar, Namibia, Netherlands, New Zealand, Pakistan, Papua New Guinea, Peru, Philippines, Puerto Rico, Saint Kitts and Nevis, Saint Lucia, Saint Vincent and the Grenadines, Samoa, Singapore, Sint Maarten, Slovakia, South Africa, Sri Lanka, Suriname, Switzerland, Taiwan, Tanzania, Tonga, Trinidad and Tobago, Turkey, Uganda, Ukraine, United States, Uruguay, Vietnam, Venezuela, Zambia, Zimbabwe);

World Internet Day on May 17
;

Optometrist Day in Venezuela on May 21
;

National Anthem Day in Venezuela on May 25