Freedom Day in Malta
Freedom Day in Malta is held on March 31. This important milestone was achieved during 1979 when the complete withdrawal of the British troops and Royal Navy marines left the island. This event in the third decade of the month March is annual.
Help us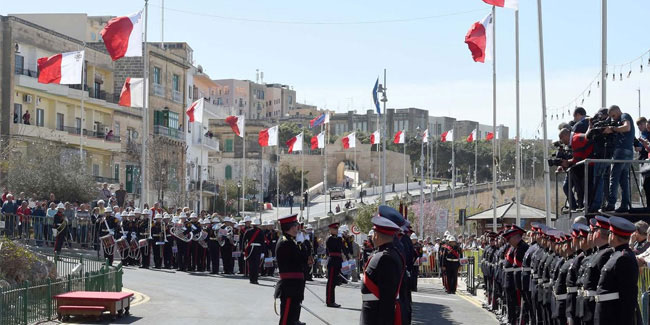 Freedom Day in Malta is significant. In 1814, Malta had become a crown colony of the British Empire after the British had help expel occupying French forces. This holiday marks the day when Malta officially became free from British occupation.
In Malta, it is called ' Jum il-Ħelsien'. The holiday marks the 31 March 1979 which was the date on which the British military finally withdrew from Malta and its sister island Gozo. While for many locals, the very fact of a paid public holiday is the main thing to know about the day, others are deeply involved in the history or tradition tied in with Freedom Day in Malta.
Similar holidays and events, festivals and interesting facts

St. Joseph's Day on March 19
(Italy, Malta, Liechtenstein);

Freedom Day in Malta on April 1
(the anniversary of the closure of the English base, celebrated since 1979);

May Crownings or the Virgin Mary Month on May 1
(Catholic Church tradition);

Motherís Day on May 12
(Anguilla, Antigua and Barbuda, Aruba, Australia, Austria, Bahamas, Bangladesh, Barbados, Belgium, Belize, Bermuda, Bhutan, Bonaire, Botswana, Brazil, Brunei, Canada, Cambodia, Cayman Islands, Central African Republic, Chad, Chile, China, Colombia, Congo, Dem. Rep., Congo, Rep., Cote d'Ivoire, Croatia, Cuba, Curaçao, Cyprus, Czech Republic, Denmark, Dominica, Ecuador, Equatorial Guinea, Estonia, Ethiopia, Faroe Islands, Fiji, Finland, Germany, Gabon, Gambia, Greenland, Ghana, Greece, Grenada, Guyana, Honduras, Hong Kong, Iceland, India, Italy, Jamaica, Japan, Kenya, Latvia, Liberia, Liechtenstein, Macau, Malaysia, Malta, Myanmar, Namibia, Netherlands, New Zealand, Pakistan, Papua New Guinea, Peru, Philippines, Puerto Rico, Saint Kitts and Nevis, Saint Lucia, Saint Vincent and the Grenadines, Samoa, Singapore, Sint Maarten, Slovakia, South Africa, Sri Lanka, Suriname, Switzerland, Taiwan, Tanzania, Tonga, Trinidad and Tobago, Turkey, Uganda, Ukraine, United States, Uruguay, Vietnam, Venezuela, Zambia, Zimbabwe);

Sette Giugno in Malta on June 7
;

Father's Day on June 18
(—elebrated on the third Sunday of June ÝÚ Argentina, Aruba, Canada, Costa Rica, France, Greece, Hong Kong, Hungary, India, Ireland, Kenya, Japan, Macao, Malaysia, Malta, Mexico, Netherlands, Pakistan, Peru, Puerto Rico, Singapore, Slovakia, South Africa, Sri Lanka, Trinidad and Tobago, Turkey, Venezuela, United Kingdom);

Wine Battle Memorial Day on June 29
(Venezuela, Colombia, Costa Rica, Malta, Peru, Rome Italy, Sao Paulo, Chile, Spain);

l-Imnarja in Malta on June 29
;

The festival of insight or the Day of the Holy Apostles Peter and Paul on June 29
(Malta, Switzerland...)