State Flag Day in Turkmenistan
State Flag Day in Turkmenistan is held on February 19. This event in the second decade of the month February is annual.
Help us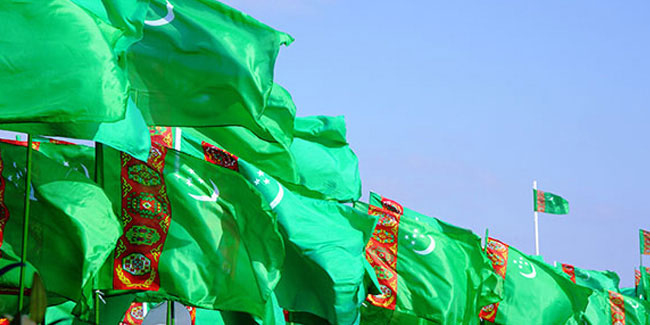 The flag of Turkmenistanfeatures a white crescent (symbol of Islam) and five stars representing the five regions of the country and the Five Pillars of Islam. Placed upon a green field is a symbolic representation of the country's famous carpet industry. It was introduced as the flag of Turkmenistan on 27 September 1992 to replace the Soviet-era flag which consisted of a red background with two light blue bars in the middle. Adopted - 19 February 1992. The modified version with a 2:3 ratio was adopted on 23 January 2001. State Flag and Constitution Day is celebrated on 18 May.
Similar holidays and events, festivals and interesting facts

Day of diplomatic workers of Turkmenistan on February 18
;

Flag Day in the Dominican Republic on February 22
(Día de la Bandera);

Mexico Flag Day on February 24
;

Turkmenistan Day of Workers of the Transport and Communications Complex on March 7
;

Flag Day in Aruba on March 18
;

Day of Chemical Industry Workers of Turkmenistan on March 31
;

Slovenia Flag Day on April 7