St Mel's Day in Ireland
St Mel's Day in Ireland is held on February 7. This event in the first decade of the month February is annual.
Help us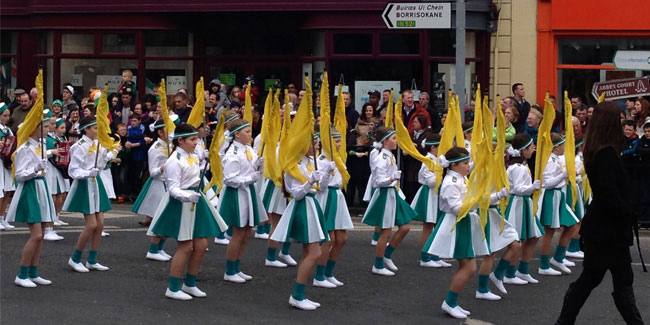 Mél of Ardagh, also written Mel or Moel, was a 5th-century saint in Ireland who was a nephew of Saint Patrick. He was the son of Conis (or Chonis) and Patrick's sister, Darerca. Saint Darerca was known as the "mother of saints" because most of her children (seventeen sons and two daughters) entered religious life, many were later recognized as saints, and several of her sons became bishops.
Mél and his brothers Melchu, Munis and Rioch accompanied their uncle Patrick to Ireland and helped him with his missionary work there. Mél and his brother Melchu were both reportedly consecrated bishop by Patrick himself. After Patrick built the church at Ardagh, he appointed Mél as Bishop of Ardagh. According to the Life of St. Brigid, Mél is said to have had no fixed see for most of his life in ministry, which fits with other accounts of his being a traveling missionary and evangelist. Acting upon the apostolic precept, Mél supported himself by working with his hands; what he gained beyond bare necessities, he gave to the poor.
Similar holidays and events, festivals and interesting facts

Brigid, patron saint of Ireland on February 1
(Christian feast day);

Imbolc or St. Brigid's Day on February 1
(Ireland, Scotland, Isle of Man, and some Neopagan groups in the Northern hemisphere);

Mothering Sunday or Motherís Day on March 10
(United Kingdom, Western Christianity; celebrated on the fourth Sunday of Lent: Guernsey, Ireland, Isle of Man, Jersey, Nigeria);

Sheelah's Day on March 18
(Ireland, Canada, Australia);

Puppy Day on March 23
;

Historic start of the new year on March 25
(Lady Day in England, Wales, Ireland, and the future United States until the adoption of the Gregorian calendar in 1752. The year 1751 began on 25 March; the year 1752 began on 1 January. It is one of the four Quarter days in Ireland and England);

Beltein on May 1
(Celtic celebration of the beginning of summer);

May Crownings or the Virgin Mary Month on May 1
(Catholic Church tradition)