King Taksin Memorial Day in Thailand
King Taksin Memorial Day in Thailand is held on December 28. This event in the third decade of the month December is annual.
Help us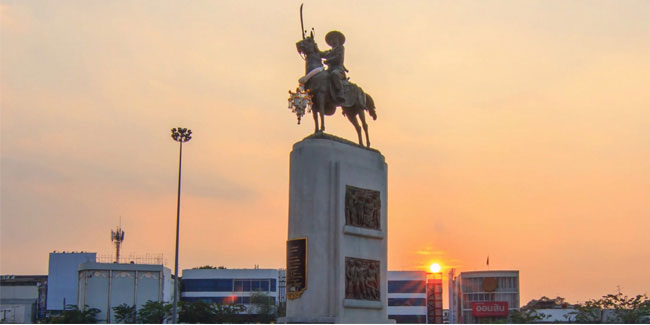 Commemorates the accession of King Taksin in 1768.
King Taksin Day is celebrated to mark the Coronation of "Phraya Vajiraprakarn" who was elevated to "Somdech Phraboromaracha IV" and is more commonly known as King Taksin.
King Taksin won the country's independence from Burmese invaders within a period of seven months, after which he moved his army from Chanthaburi to Thonburi, where he was crowned king on December 28, 1768. He established Thonburi as his capital.
Taksin, also called Phraya Taksin or Phya Tak, (born April 17, 1734, Ayutthaya [Thailand]—died April 6, 1782, Thon Buri, Thailand), Thai general, conqueror, and later king (1767–82) who reunited Thailand, or Siam, after its defeat at the hands of the Myanmar (Burmese) in 1767.
Similar holidays and events, festivals and interesting facts

Tenth of Tevet on December 22
(Date for 2023);

Ancestry Day on January 2
(Haiti);

Berchtold's Day or Berchtoldstag on January 2
(Switzerland, Liechtenstein and the Alsace);

Day of the Fallen against the Colonial Repression on January 4
(Angola);

Pathet Lao Day in Laos on January 6
;

Martyrs' Day in Panama on January 9
(is a Panamanian day of national mourning which commemorates the January 9, 1964 anti-American riots over sovereignty of the Panama Canal Zone);

Memorial Day in Turkmenistan on January 12
(Day of mourning in honor of the Turkmen killed on January 12, 1881 at the hands of Russian invaders at the Battle of Geok-Tepe, near Ashgabat)