Bodhi Day in Japan
Bodhi Day in Japan is held on December 8. This event in the first decade of the month December is annual.
Help us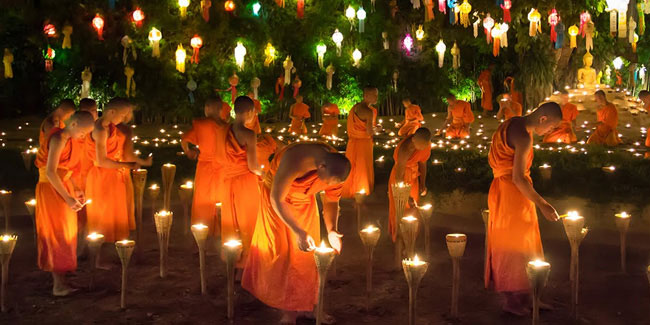 Bodhi Day is celebrated in a calm and quiet way. Bodhi Day is observed to mark the moment that took place 2,500 years ago when Siddhartha Gautama achieved enlightenment and became the Buddha or 'awakened one'. This is thanks to Emperor Meiji, who began the westernization of Japan when he ruled from 1867 to 1912. Every year, Bodhi Day in Japan is celebrated on December 8th.
Buddhists will often spend time meditating and praying, thinking about the Noble Eightfold Path and the Four Noble Truths. At home, Buddhists might decorate a bodhi tree with lights and statues of the Buddha may be displayed around the house.
Similar holidays and events, festivals and interesting facts

Christmas Tree Day in Japan on December 7
;

Hari-Kuyō on December 8
(Kansai region, Japan);

Japan Kanji Day on December 12
(Kanji are Chinese characters used in modern Japanese writing along with hiragana, katakana, Arabic numerals, and romaji. On this day, the kanji of the year is chosen and announced at a special ceremony. It is selected by the Japan Kanji Professionals Society through the national ballot);

Forty-seven Ronin Remembrance Day in Sengaku-ji, Tokyo on December 14
;

Commemoration Day of 47 rōnin in Japan on December 14
;

World Otaku Day on December 15
(a person who is passionate about something);

Cinderella Day in Japan on December 31
(Shinderera De)