Day of the Little Candles in Colombia
Day of the Little Candles in Colombia is held on December 7. Begins after sunset. This event in the first decade of the month December is annual.
Help us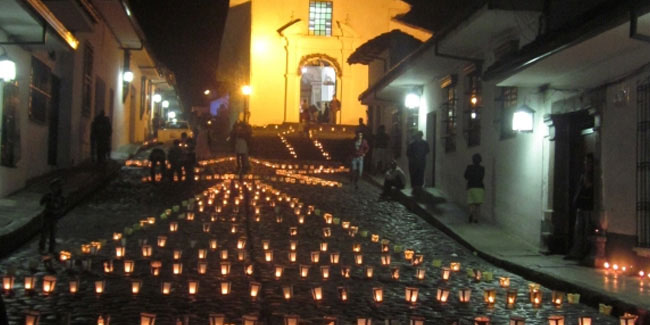 To kick off Christmas, Colombians illuminate the streets and skies with the light of joy. Every December 7th, at night, Colombians take to the streets to fill them with light. Millions of candles are lit in the towns and cities of the country to celebrate the feast of the Immaculate Conception of the Virgin Mary.
The candles and lanterns of all colors fill the night with which Christmas officially begins with magic. That night commemorates the moment in which the Archangel Gabriel announced to Mary that she was the chosen one, before her birth, to be the mother of Jesus.
If you were not clear about the history of this date, we will tell you that it was proclaimed by Pope Pius IX in the Bull (known as a pontifical document) Ineffabilis Deus on December 8, 1854 and history says that the day it was taken the decision, believers from various parts of the world lit candles to celebrate the moment and, since then, the tradition of illuminating this December night has been maintained.
In Colombia, a country in which the Catholic religion predominates, this tradition was maintained and has become a space where both children and adults meet with their families, taking advantage of the fact that the following day is a holiday.
Similar holidays and events, festivals and interesting facts

Pan American Pharmacy Day on December 1
;

International Radio and Television Day for Children on December 10
;

World Energy Conservation Day on December 14
;

World Otaku Day on December 15
(a person who is passionate about something);

International Emo Day on December 19
;

Doce uvas on December 31
(the Spanish New Year's tradition of eating twelve grape varieties, one for each of the twelve clock strokes by midnight, subsequently spread in such Spanish-speaking countries as Mexico, Bolivia, Venezuela, Ecuador, El Salvador, Peru, Colombia, Puerto Rico, Nicaragua, Costa Rica et al);

Public Domain Day on January 1
(multiple countries)