Albanian Flag and Independence Day
Albanian Flag and Independence Day is held on November 28. Celebrate the independence of Albania from Turkey in 1912, the first Albanian flag raise by Skanderbeg in 1443, and for the new parliamentary constitution in 1998. This event in the third decade of the month November is annual.
Help us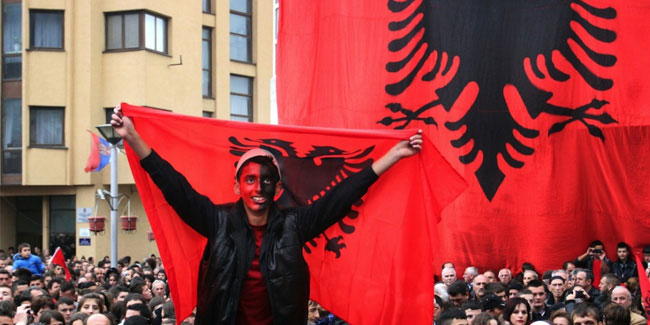 The red stands for bravery, strength, valour and bloodshed, while the Eagle represents the sovereign state of Albania. The flag was established as the national flag of Albania when the country gained its independence from the Ottoman empire in 1912. A red field with a black two-headed eagle in the center.
Albanians place the red and black flag in their window or on their doorstep, and they wave the flag from their balconies. Many Albanians stay home and watch the ceremonies on TV.
Independence Day (Albanian: Dita e Pavarësisë) is an annual public holiday in Albania on November 28th each year. It is a National Day and commemorates the date when Albania proclaimed its independence from the Ottoman Empire in 1912.
Similar holidays and events, festivals and interesting facts

Day of the Albanian Alphabet on November 22
(Albania and ethnic Albanians);

Liberation Day or Dita e Çlirimit in Albania on November 29
;

National Youth Day in Albania on December 8
;

The second day of New Year on January 2
(a holiday in Kazakhstan, Macedonia, Mauritius, Montenegro, New Zealand, Romania, Russia, Slovenia, Switzerland, Ukraine. New Year Holiday [Albania, Scotland], if it is a Sunday, the day moves to January 3);

Republic Day in Albania on January 11
;

Teacher's Day in Albania on March 7
;

Mother's Day in Albania on March 8
(also Afghanistan, Azerbaijan, Bosnia and Herzegovina, Bulgaria, Burundi, Burkina Faso, Kosovo, Laos, Macedonia, Moldova, Montenegro, Serbia, Tajikistan, Uzbekistan)