Sainte Cecilia Day in Monaco
Sainte Cecilia Day in Monaco is held on November 19. Saint Cecilia is the Saint Patron of musicians. Her Feast is celebrated on the Sunday following Monaco's National Holiday. This event in the second decade of the month November is annual.
Help us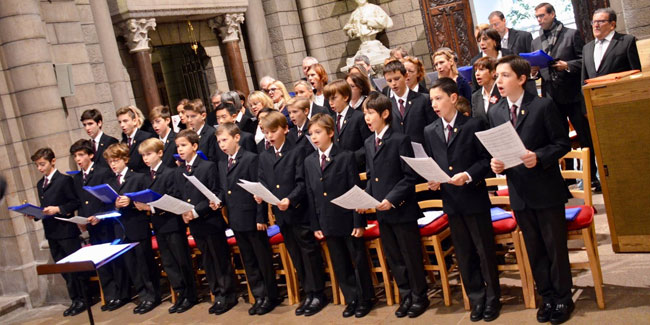 Patron saint of musicians, Saint Cecilia is celebrated in the Principality on the day following the National Holiday on November 19th. A parade is organized in the city, preceded by a mass in the cathedral. All the official musical groups of Monaco are present.
According to Don Lanciarez, parish priest of Monaco in the 18th century, the Saint was the "Patron Saint of musicians" in Monaco, but there is no documented evidence of such a practice or of a particular cult around the Saint. A certain solemnity to this feast was given to Monaco at the time of the creation of the Cathedral Choir by Bishop Louis-Lazare Perruchot, in 1930, and it remains the Patronal Feast of the choirboys and musicians of the Principality.
Similar holidays and events, festivals and interesting facts

All Saints' Day a holy day of obligation on November 1
(a national holiday in many historically Catholic countries. And its related observance: Day of the Innocents, The first day of Day of the Dead or El Dia de los Muertos celebration. - Mexico, Haiti);

The Sovereign Prince's Day in Monaco on November 19
(The National Monegasque Feast Day was established by Prince Charles III in 1857 to coincide with the Sovereign Prince Patron Saint's Day, thus constituting a moveable feast);

Monaco National Day on November 20
;

St Nicholas Day on December 6
(International. The St. Nicholas/Santa Claus leaves little presents in children's shoesl);

U Pan de Natale in Monaco on December 24
(The Committee for the preservation of Monaco's Traditions requests all bakers to sell « U Pan de Natale », Monaco's Traditional Christmas Bread);

Festival Internazionale del circo di Montecarlo on January 19
(Usually held in December);

Devota in Monaco on January 27
(Christian feast day. Feast of Sainte Devote, Saint Patron of Monaco and of the Prince's family)