Statia Day, Sint Eustatius
Statia Day, Sint Eustatius is held on November 16. Caribbean Netherlands. This event in the second decade of the month November is annual.
Help us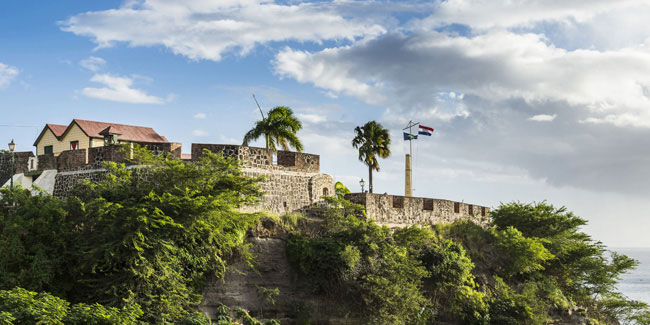 Statia Day / Statia Dag. Every year on November 16, 'Flag Day' is an official holiday in the special municipality of Sint Eustatius. In memory of the adoption of the flag of St. Eustatius in 2004.
The island of Sint Eustatius is one of the Windward Islands and was part of the Netherlands Antilles until 2010. When the Netherlands Antilles were dissolved, it became a special municipality of the Netherlands, together with Bonaire and Saba.
The flag of Sint Eustatius was adopted on November 16, 2004. The flag is divided into four five-sided blue areas with a red border. In the center is a white diamond with the outline of the island, the volcano The Quill, and a five-pointed gold star in green.
Similar holidays and events, festivals and interesting facts

Opening of carnival on November 11
("Karneval"/"Fasching", on 11-11, at 11:11. Germany, the Netherlands, and other countries);

Sint Maarten's Day on November 11
(St. Martin's Day: Sint Maarten, Kingdom of the Netherlands);
Sinterklaas in the Netherlands on December 5
(It is celebrated on the evening before Sinterklaas' birthday on December 5, especially in families with little children);

St Nicholas Day on December 6
(International. The St. Nicholas/Santa Claus leaves little presents in children's shoesl);

Koninkrijksdag or Kingdom Day on December 15
(Aruba, Netherlands);

Second day of Christmas on December 26
(Western Christianity. Public holiday in the Netherlands, Poland, Norway);

National Tulip Day in Netherlands on January 20
(The third Saturday of January)