Cry of Independence Day in Panama
Cry of Independence Day in Panama is held on November 10. "Primer Grito de Independencia de la Villa de los Santos" celebrating The Gesture of Rufina Alfaro and the uprising in the Villa de los Santos against Spain. This event in the first decade of the month November is annual.
Help us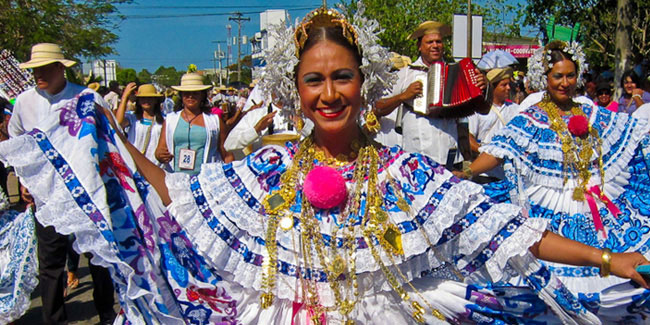 Along with 4 more commemoration dates during November, Cry of Independence Day in Panama (or Los Santos Uprising Day) is part of Month of the Motherland (El mes de la patria) celebrating Panama liberation from Spanish conquest. On November 10th in 1821, the inhabitants of Villa de Los Santos bravely led the first cry for independence and finally declared themselves free of Spain on November 28th of the same year. November traditionally is a month of national celebration for Panamanians. They commemorate the historical month of their republic with bands, fireworks, parades, traditional dances and patriotic decorations throughout the country. Itís a month of celebrations and days off, and Panamanians invite the whole world to join in celebrating their culture and identity.
Other Celebration Days in November:
November 3, Separation Day or El Día de la Separación. On this day Panamanians celebrate the separation from Colombia.
November 4, Flag Day or El Día de la Bandera. This Holiday is the second day of Panamanian celebrations and also part of El día de los símbolos patrios (National Symbols Day).
November 5, Colon Day or El Día de Colón. Day of the City of Colón on the Atlantic Side, instrumental in the separation of Panama from Colombia.
November 28, Independence Day or Día de la Independencia. Independence of Panama from Spain with the courage and the sword of The Liberator, Simón Bolívar from Venezuela.
Similar holidays and events, festivals and interesting facts

Colón Day in Panama on November 5
(Colon is a city and seaport in Panama, beside the Caribbean Sea, lying near the Atlantic entrance to the Panama Canal. It is the capital of Panama's Colón Province and has traditionally been known as Panama's second city);

Journalists Day in Panama on November 13
(Día del Periodista. Date commemorating the death of journalist and poet Gaspard Octavio Hernandez in 1918);

Panama Independence Day on November 28
(celebrate the independence of Panama from Spain in 1821);

Teachers' Day in Panama on December 1
;

Mother's Day in Panama on December 8
(Día de la Madre);

El Cestadero Patron's Day in Panama on December 8
;

Loyalty Day in Panama on December 16