Day of the Dead
Day of the Dead is held on November 2. The second day of Day of the Dead or El Dia de los Muertos celebration in Mexico. This event in the first decade of the month November is annual.
Help us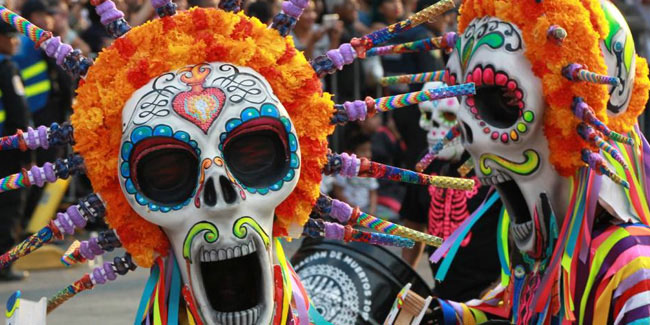 The Day of the Dead is a holiday traditionally celebrated on November 1 and 2, though other days, such as October 31 or November 6, may be included depending on the locality. It largely originated in Mexico, where it is mostly observed, but also in other places, especially by people of Mexican heritage elsewhere.
El Día de los Muertos is not, as is commonly thought, a Mexican version of Halloween, though the two holidays do share some traditions, including costumes and parades. On the Day of the Dead, itís believed that the border between the spirit world and the real world dissolve. During this brief period, the souls of the dead awaken and return to the living world to feast, drink, dance and play music with their loved ones. In turn, the living family members treat the deceased as honored guests in their celebrations, and leave the deceasedís favorite foods and other offerings at gravesites or on the ofrendas built in their homes.
Similar holidays and events, festivals and interesting facts

Day of the Dead in Mexico on November 1
(celebrated until November 2);

All Saints' Day a holy day of obligation on November 1
(a national holiday in many historically Catholic countries. And its related observance: Day of the Innocents, The first day of Day of the Dead or El Dia de los Muertos celebration. - Mexico, Haiti);

Santa Muerte on November 1
(Folk Catholicism, Mexico and Southwestern United States);

World Ecology and Ecologists Day on November 1
;

World Sandwich Day on November 3
;

International Jeweler and Watchmaker Day on November 3
;

International Day for Biosphere Reserves on November 3