Election Day in United States
Election Day in United States is held on November 7. Held on the first Tuesday following the first Monday in November. This event in the first decade of the month November is annual.
Help us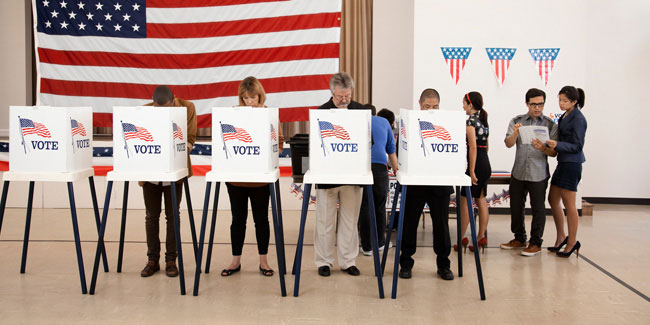 An election is a formal group decision-making process by which a population chooses an individual or multiple individuals to hold public office. An election taking place under universal suffrage. Many Americans will be heading to the polls at some point today to cast ballots on th.e first Tuesday after the first Monday of November. Election Day was established by Congress in 1845. Congress chose a day in November for Election Day because the harvest work was always done by then. While Election Day happens every year, presidential elections only occur every four years.
Every vote counts, for example, in 1800 – Thomas Jefferson was elected President by one vote in the House of Representatives after a tie in the Electoral College. In 1824 – Andrew Jackson won the presidential popular vote but lost by one vote in the House of Representatives to John Quincy Adams after an Electoral College dead-lock.
There are only three requirements to be president, according to Article II, Section 1, Clause 5 of the U.S. Constitution: Must be at least 35 years old; Have lived in the United States at least 14 years; Be a natural-born citizen.
Similar holidays and events, festivals and interesting facts

National Basketball Day in USA on November 6
(It was on November 6, 1861 that James Naismith was born);

National Nachos Day in USA on November 6
;

National Bittersweet Chocolate with Almonds Day in USA on November 7
;

International Medical Physics Day on November 7
;

Montana Statehood Day on November 8
(1889);

National Cappuccino Day and Cook Something Bold Day in USA on November 8
;

National Harvey Wallbanger Day in USA on November 8
;

Cook Something Bold and Pungent Day on November 8