Antigua and Barbuda Independence Day
Antigua and Barbuda Independence Day is held on November 1. Celebrates the independence of Antigua and Barbuda from the United Kingdom in 1981. This event in the first decade of the month November is annual.
Help us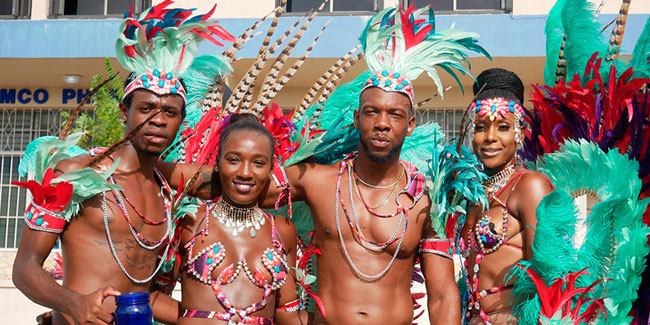 The autonomy talks were complicated by the fact that Barbuda, long a dependency of Antigua, felt that it had been economically stifled by the larger island and wanted to secede. Finally, on November 1, 1981, Antigua and Barbuda achieved independence, with Vere Bird as the first prime minister.
Independence day is a popular holiday on the islands with events such as food fairs, sports competitions, dance festivals, art and craft exhibitions held during the weeks in the lead up to Independence Day. On Independence Day, the Prime Minister makes an address to the nation followed by a grand ceremonial parade.
Similar holidays and events, festivals and interesting facts

Carnival in Antigua and Barbuda on August 5
;

National Heroes Day in Antigua and Barbuda on December 9
(formerly V.C. Bird Day);

Boxing day in Australia on December 26
(also Anguilla, Antigua and Barbuda, Great Britain, New Zealand, Canada, Kiribati, Nauru, Botswana, Ghana, Jamaica);

Easter Monday on April 1
(Påskedag in Norway);

Labour Day in Antigua and Barbuda on May 6
(Closed on the first Monday of May);

Motherís Day on May 12
(Anguilla, Antigua and Barbuda, Aruba, Australia, Austria, Bahamas, Bangladesh, Barbados, Belgium, Belize, Bermuda, Bhutan, Bonaire, Botswana, Brazil, Brunei, Canada, Cambodia, Cayman Islands, Central African Republic, Chad, Chile, China, Colombia, Congo, Dem. Rep., Congo, Rep., Cote d'Ivoire, Croatia, Cuba, Curaçao, Cyprus, Czech Republic, Denmark, Dominica, Ecuador, Equatorial Guinea, Estonia, Ethiopia, Faroe Islands, Fiji, Finland, Germany, Gabon, Gambia, Greenland, Ghana, Greece, Grenada, Guyana, Honduras, Hong Kong, Iceland, India, Italy, Jamaica, Japan, Kenya, Latvia, Liberia, Liechtenstein, Macau, Malaysia, Malta, Myanmar, Namibia, Netherlands, New Zealand, Pakistan, Papua New Guinea, Peru, Philippines, Puerto Rico, Saint Kitts and Nevis, Saint Lucia, Saint Vincent and the Grenadines, Samoa, Singapore, Sint Maarten, Slovakia, South Africa, Sri Lanka, Suriname, Switzerland, Taiwan, Tanzania, Tonga, Trinidad and Tobago, Turkey, Uganda, Ukraine, United States, Uruguay, Vietnam, Venezuela, Zambia, Zimbabwe);

Whit Monday on May 20
(celebrated on the day after Pentecost)