Chulalongkorn Day in Thailand
Chulalongkorn Day in Thailand is held on October 23. This event in the third decade of the month October is annual.
Help us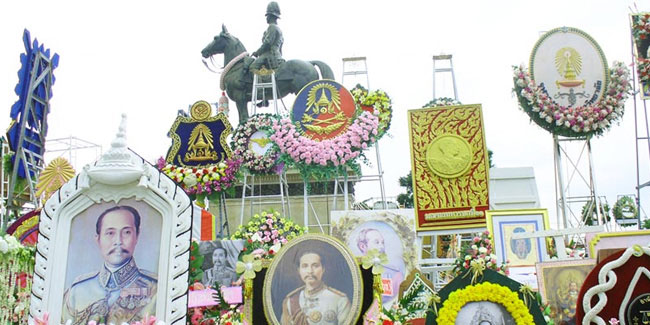 Commemorates the passing of King Chulalongkorn in 1910.
King Chulalongkorn, A.D. 1863-1910, had 32 sons and 44 daughters + 1 (unborn but recorded) by 36 wives. His first child was born when he was 16; he did not have any children after he was 42.
King Chulalongkorn was perhaps best known for his abolition of slavery. In 1900 the Employment Act stated that all workers should be paid. All the slaves in Thailand were freed so that they would not become unemployed. The most important royal contribution was the announcement of Slave Abolition Act.
23 October of every year is a national holiday in Thailand as it marks "King Chulalongkorn Day" or known in Thai as "Wan Piyamaharaj Day". It is the memorial day of the passing away of King Chulalongkorn, otherwise known as King Rama V. King Chulalongkorn led several major reforms in Thailand, for example in the areas of Thai educational system, military affairs, State Railway and Slave Liberation Act without bloodshed in Thailand.
Similar holidays and events, festivals and interesting facts

Indian Police Commemoration Day in India on October 21
;

Ndadaye Day in Burundi on October 21
;

Trafalgar Day in Great Britain on October 21
(celebration of the victory won by the Royal Navy, commanded by Vice-Admiral Horatio Nelson, over the combined French and Spanish fleets at the Battle of Trafalgar on 21 October 1805);

Paris Peace Agreement Day in Cambodia on October 23
;

Taiwan Retrocession Day on October 25
;

Černová Tragedy Day in Slovakia on October 27
;

Yitzhak Rabin Memorial on October 27
(Date for 2023. Unofficial, but widely commemorated - יצחק רבין)