Mother Teresa Day or Saint Teresa Sanctification Day in Albania
Mother Teresa Day or Saint Teresa Sanctification Day in Albania is held on September 5. This event in the first decade of the month September is annual.
Help us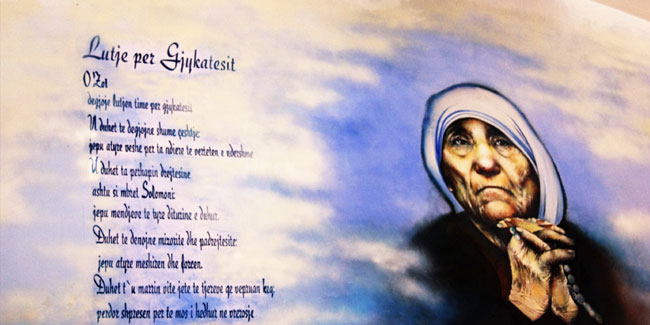 Tirana, September 12, 2003 (Apic) Albania will mark October 19, Mother Teresa's beatification day, with a national holiday. A spokesman for the government of Tirana communicated Friday that from October 19, 2003 to October 19, 2004, Albania will live a year dedicated to the memory of Agnes Bojaxhiu, alias Mother Teresa, the founder of religious orders who died in 1997. Many events will be dedicated to the future Blessed, who was born in 1910 in Skopje, in present-day Macedonia. Mother Teresa of Calcutta, who received the Nobel Peace Prize in 1979, will be beatified by Pope John Paul II on October 19 in Rome.
The day of Mother Teresa (dita e Nënë Terezës) corresponds to the date of her canonization, September 5, 2016. It was included in the calendar in 2004, officially to encourage Albanians to follow the example of the Catholic saint by helping the poorest. Born in Skopje (Northern Macedonia) and from the Catholic Albanian minority in Kosovo, Anjezë Gonxhe Bojaxhiu (1910-1997) took the name of Teresa in homage to St. Therese of Lisieux and only set foot in Albania in 1989 after spending most of her life in India.
Similar holidays and events, festivals and interesting facts

Martyrs' Day in Albania on May 5
;

Mother Teresa Day in Albania on October 19
;

World Romani Language Day on November 5
;

Day of the Albanian Alphabet on November 22
(Albania and ethnic Albanians);

Albanian Flag and Independence Day on November 28
(celebrate the independence of Albania from Turkey in 1912, the first Albanian flag raise by Skanderbeg in 1443, and for the new parliamentary constitution in 1998);

Liberation Day or Dita e Çlirimit in Albania on November 29
;

National Youth Day in Albania on December 8