King Father's Commemoration Day in Cambodia
King Father's Commemoration Day in Cambodia is held on October 15. This event in the second decade of the month October is annual.
Help us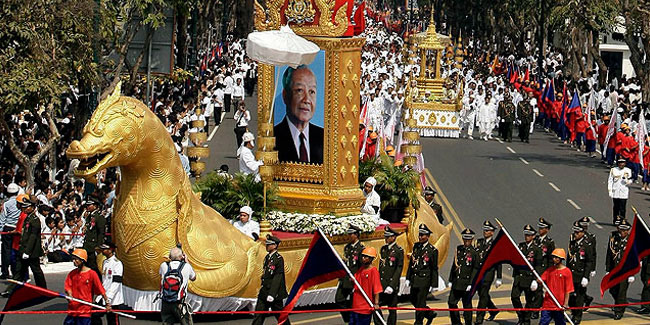 One of the most important accomplishments King Norodom Sihanouk gave Cambodians was independence from the French. Sihanouk steered a neutralist course in his foreign policy. In return for a North Vietnamese pledge to respect Cambodia's frontiers, he allowed Vietnamese communists to operate covertly from bases inside eastern Cambodia.
King's Coronation Day is a public holiday in the Kingdom of Cambodia on October 29th each year. This holiday commemorates the anniversary of the King's coronation in 2004.
King Norodom Sihamoni is the reigning King of Cambodia who has a net worth of $500 thousand dollars. Born in Phnom Penh, Cambodia on May 14, 1953, Sihamoni is a member of the House of Norodom.
Similar holidays and events, festivals and interesting facts

Nyerere Day in Tanzania on October 14
;

Memorial Day for the loss of a child during pregnancy or a newborn on October 15
(noted in Ohio, USA, Canada, France, Britain and Italy);

Pregnancy and Infant Loss Remembrance Day on October 15
;

Dessalines Day in Haiti on October 17
(Jean-Jacques Dessalines was born September 20, 1758 in Guinea, the date and place of his assassination was October 17, 1806 in Port-au-Prince, Republic of Haiti. Jean-Jacques Dessalines was the founder of an independent Haitian state and was Haiti's first ruler and national hero);

Indian Police Commemoration Day in India on October 21
;

Ndadaye Day in Burundi on October 21
;

Trafalgar Day in Great Britain on October 21
(celebration of the victory won by the Royal Navy, commanded by Vice-Admiral Horatio Nelson, over the combined French and Spanish fleets at the Battle of Trafalgar on 21 October 1805)