Double Ten Day
Double Ten Day is held on October 10. The National Day of Republic of China, celebrates outbreak of the Wuchang Uprising in 1911 that led to founding of the Republic of China in 1912. This event in the first decade of the month October is annual.
Help us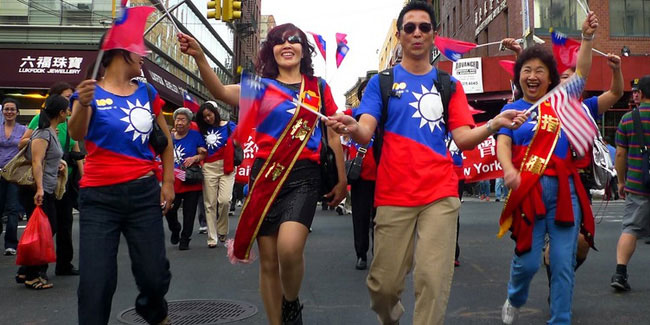 Double Ten Day is the anniversary of the Wuchang Uprising (武昌起義), a revolt that led to a declaration of independence from the central government by Wuchang and several other provinces in China in 1911. The National Day of the Republic of China or the Taiwan National Day, also referred to as Double Ten Day or Double Tenth Day, is a public holiday on 10 October, now held annually in Taiwan (officially the Republic of China, ROC).
The parade has been held intermittently during the period of the Republic of China on Taiwan. The military parade on 10 October 1949, was the first public military parade held in Taiwan with Chen Cheng serving as the Grand Review Officer. When Chen Shui-bian became president, the parade was not held until 2007 and then it was entitled a "Celebration Drill" and not a traditional military parade. Since Ma Ying-jeou became president, one parade has been held on the centenary celebrations of the Double Tenth Day, and another on the 105th, the only one under Tsai Ing-wen's presidency.
Similar holidays and events, festivals and interesting facts

National Day of Commemorating the Holocaust in Romania on October 9
;

Independence Day in Cuba on October 10
(commemorates the proclamation of Cuba's independence from Spain and the beginning of the Ten Years' War in 1868);

Taiwan National Day on October 10
(commemorating the start of the Wuchang Uprising);

Rwagasore Day in Burundi on October 13
;

Nyerere Day in Tanzania on October 14
;

King Father's Commemoration Day in Cambodia on October 15
;

Memorial Day for the loss of a child during pregnancy or a newborn on October 15
(noted in Ohio, USA, Canada, France, Britain and Italy);

Pregnancy and Infant Loss Remembrance Day on October 15